Transformers & Voltron, eat your hearts out.
Wasn't this the toy Tom Hanks made fun of in BIG?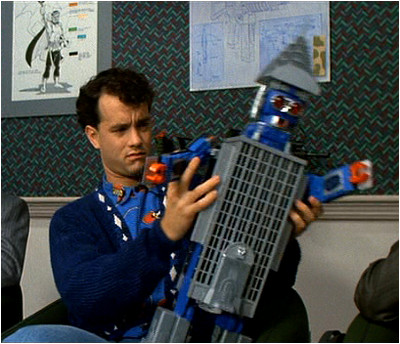 If so, you deserve a crown for obscurest reference ever.
"I don't get it."
(notice the quotes)
your wish has been granted
It's called a Zoltar machine!
Wow, that's a really "BIG" robot!
Drum Riff
HA HA HA. Oh the 80's, big hair, mullets, giant shoulder pads, and neon colors. We were a mess, with our skyscrapper robots, pongs and dirt collections.
Taps Medicfrost on shoulder
psssssst
Don't look now buddy, but the answer to that question might be in today's write up.
I watched this movie like 100 times when i was a kid.
A Tom Hanks movie obscure? Shouldn't you go for a 'Burbs reference then? or One Red shoe? I think they are less known than Big.
My son and I played on a floor piano today. I still lack mad skillz but I thought of Tom Hanks and Big. Makes me want 2 of these.
It's like the planets, stars and me aligned today.
Awesome.
It's a robot and a building? But what else does it do…?
The robot's face and neck resemble a blender.
Time for some enormous penthouse margaritas!
Looks peppy + like it makes weird chirpy noises.
I'd buy a T-shirt depicting a stand-up comedian performing in a hospital ward. Or perhaps a raven dropping a stone sculpture on a casino thief's head, dropping him onto a garbage barge passing on the river below the bridge.
Is this one of the new toy tie-ins for "Transformers 3"?
Well, I guess referencing a toy robot is better than trying to make a gag out of a "brain cloud" those things can be quite serious I hear!
(How's that for oddball Tom Hanks movie?)
Your write up seems to imply that no one would want this shirt…
I kind of agree…
I'd buy the Zoltar shirt though.