1. Eh. I spell it "draidel", but it's one of those words that has numerous spellings. Now I don't remember how I spell it, as I usually just verbalize it.
The title.
Warning. Mine came today and it terrible! The one in the photo is pretty. The description said dreidel instead of Star of David so I expected the same shirt with a dreidel on it. This ugly thing is what came…

The words and dreidels are cheapo sewn together sequins. The poofs of color are glued on pom poms. It's not even fit for a costume party. Have written customer service otherwise it will go in the trash. Not even worth donating to Goodwill.
Yikes. Make sure you reach out to Woot! Customer Service. To speed things up, let them know if you prefer a return/refund or a replacement (if possible).
Please allow 24-48h for them to respond.
Browser: Use the Woot! Customer Service form.
Woot! App: Choose Account from the bottom navigation and then Support.
Self-Return: Items without Li-Ion batteries can be self-returned within 30 days. Go to your Order Details to get started. The return label will be emailed from UPS.
Note: Woot! Customer Service replies go to the email address on your Woot! account, not your Amazon login email if used/different.
You need to show us a better photo including the sleeves so we can laugh at it.
The ש is bugging me due to the lopsidedness.
It's covered in cat toys. This sweater will get you attacked.
You should get one for Narf.
But that would ruin the evenness.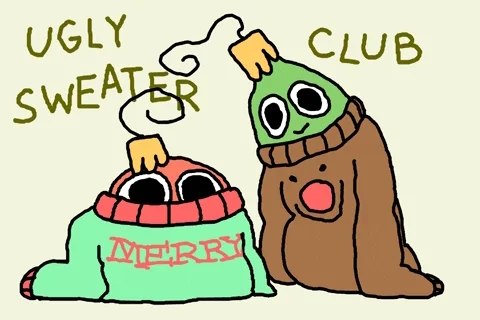 I have no words for the sweater you received!
The sleeves are actually the only semi-nice part of the sweater. At least it's a knitted design instead of sequins and pompoms
I did, before I posted here. Wanted to warn others since the sweaters are still available
Woot credited me for this purchase! Thank you Woot! I really did like the one pictured.

The one you got would make a heck of a sweater-vest!