I learned basic sewing in scouting. Emergency seam stitching, buttons and zippers
Not really, but I can reap. (I know, I know, spelling.)
Again… to the surprise of most of you… I'm can sew the hell out of some fabric. Elevyn gets ME to do HER sewing

I can thread an eye of the needle. However, I would not trust my stitching to hold in or back anything.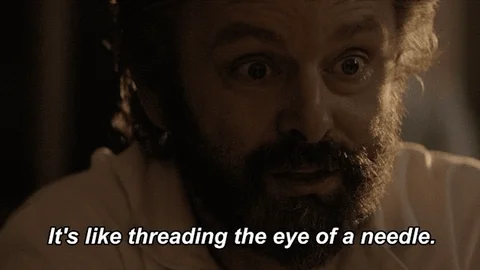 I can do a crappy stitch by hand, but sewing machines are out of the question. I tried and tried, but the damn things never agreed with me.
Old school here; learned as a kid. Since with time I became really good at it, I eventually became self-sufficient with all my sewing and tailoring needs. With the time passing I mostly lost interest, but still do it when I need something made exactly the way I want it. Useful skill and saved me lots of money over my lifetime. My last professional order was for my wedding dress - a very long time ago.
I can do buttons and some cruddy darning, but it's been years since I've used a machine. Once we clear enough space we will see if I'm still okay on it.
I made a lot of money in Boot Camp sewing. There were a few of us in Boot Camp that could sew so it was kind of an oddity, when I got to Sub School almost everyone could sew and by the time I hit the boat it was more odd to meet a guy that couldn't do at least basic sewing. That said, we sent all our stuff that had to be inspection ready to the professionals at the base laundry. Those people were some of the best tailors I ever saw.
Yes, i can sew. I learned from my mom, girl scouts and high school. My sewing machine is an old fashioned Singer and it is a solid work horse. I have made some things via patterns. But have mostly done repairs or small / simple projects over last decade.
I'm not the best ever, but I can sew. I mostly taught myself when I was 12. Last week, I sewed

cover for the heating pad I bought from Woot!
It's beautiful and fits the heating pad great!
I am learning. Found a late model Juki at a thrift store for $15.00. I am not mechanically inclined so even winding the bobbin and threading the needle was a challenge; but I got it. Sewing books are helping though.
Can I? Yes.
Do I? Not really, lately.
I used to sew a lot of outdoor gear stuff when I was younger. My mom had an old Kenmore machine that somehow I inherited in the 80s while in High School. I still have, and it still works like a champ. My wife bought a Brother machine some years ago… and it's already got a couple broken parts has never been able to sew through 3 layers of 1" tubular nylon webbing like my mom's old machine still can.
I've made climbing chalk bags, backpacks, fanny packs, polar fleece hats, various packs/backs for bicycles, lots of webbing stuff like belts and misc climbing things… stuff like that mostly. But I've also made bigger stuff… I made a pair of snowboarding pants back in the 90s that I used for years.
I don't sew as much as I used to… but I do still make the occasional stuff sack (most sleeping bags come with ridiculously larger stuff sacks than they should) or small gear bags for organizing… things like that.
I can sow, but i cannot sew.
That which ye sew, so shall ye rip?


I am a rank amateur. My dear Mother taught me to do buttons and a crude backstitch for hems. I can improvise a very poor seam stitch. Have reinforced backpack and laptop case handles with carpet thread (that worked real well). Wish I could repair broken zippers - those nylon ones self destruct. YYKs look too rugged, but they can even take abuse from airport luggage handlers having a fling (could be an olympic event).