From any distance, it will be a non-descript blue box on a shirt.
Nice, you nailed the style. Didn't you do another design with this caterpillar? You're really good with this style.
Pretty cool. Very Casual Friday friendly
One overcast morning, the very brave caterpillar set off on a quest, little did he know, the dangers that stood in his way.
5 colors on asphalt
Doing this design has now made me want to collect meerschaum pipes…and draw more Victorian armchairs.
Here's a close-up: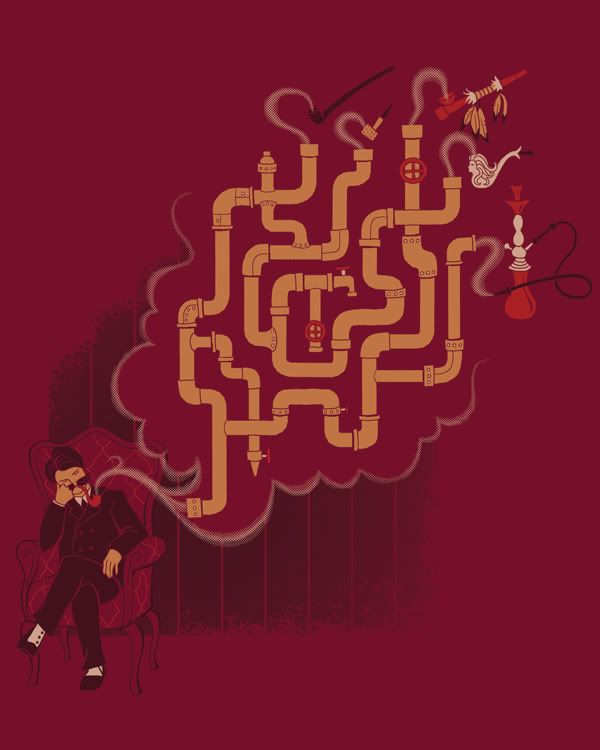 This is great! love the paint texture on the canvas
Insane graphics Kari. Awesome!
One little dice, endless combinations…
3 colors
on asphalt
It would be nice to have that kind of job security…
Because the pen is mightier than the sword!
Amazing grid work Spirit!!
I love all things Office Space
Internal Maze on asphalt tee.
Enjoy!
Love the artwork on this one.
I always love your lines, Omni. So much style. Ya GMV.
The last time I did a maze, I was on public transit (the MAX for all the Portland folk), and two kids were behind me, looking at my every move.
I realized midway through this design that the maze book could be interpreted as any puzzle book (or even a diary, sketchbook, et cetera…), so I put a little maze on the backside. Hopefully, the rejectors will acknowledge that this was indeed inspired by mazes (more specifically, my last experience with mazes).
Also, never take directional advice from jellyfish; they do not have brains, and their movement is persuaded by the ocean's currents. Definitely not the proper authority here… just like two rambunctious kids
extreme analogy…EXTREME!!!
Side note: jellyfish rule!
Okay, this is just about the best one I've seen yet. GMV and I want! A lot of work went into this, and it's very very cool.