Comments for individual derby entries are placed in this thread.
I spent like…way too much time on this, haha. 5 colors in halftones, on a brown shirt.
The national symbols of Dessert are the lollipop and the ice cream soda! Queen Dessert wears the famed strawberry-muffin crown.
EDIT: Here is a *.gif of how the halftones are set up.
Light, soft, airy or dark, thick, and rich? Which side will you choose?
Hooray for camels?
Dessert vs. Desert
Sorbet is middle eastern
Colours correspond to the Italian flag (reference to gelato)
I thought of this kind of thing after watching Fraggle Rock with my sons…
Cupcake Platter
A modern whimsy take on a platter of cupcakes as viewed from above.
Thank you for your vote!
Am I the only one who always thought Oreos looked like little spaceships?
Hah! I actually have that phrase written down as a concept somewhere. It certianly lends itself to a number of different designs.
GMV Very nice work. Shouldn't there be more idle dessert engineers standing around?
Sundae Fun
And a 1, and a 2, and a 3 … JUMP!! How the cherries really get atop your favorite sundae!
Thank you for your vote!
A pretty french treat,layered in pastel colors.
a Parfait is a frozen dessert, similar to a mousse but lighter. American parfait is ice cream and whipped cream. Both are served in a tall narrow glass. Interesting lingual history. The word Parfait comes from the French, and Old French, meaning 'Perfect' which is how many view this delicious dessert.
Thanks for the votes!!
Thank you for visiting. Here is a closer detail.
Wow bargainbin… this is amazing. I can't draw people at all. You do it extremely well.
Wondering if you could have used a red as your sixth colour in the cherries, but this already looks great.
I'm back after a two month absence with a shirt designed for those of us that can't eat without getting food on ourselves.
Enjoy the sticky goodness!
A yummy carmel covered apple is one of the best fall desserts that is both sweet and delicious. And what better time to receive one but on Halloween!!
Here's a nice close up. Enjoy!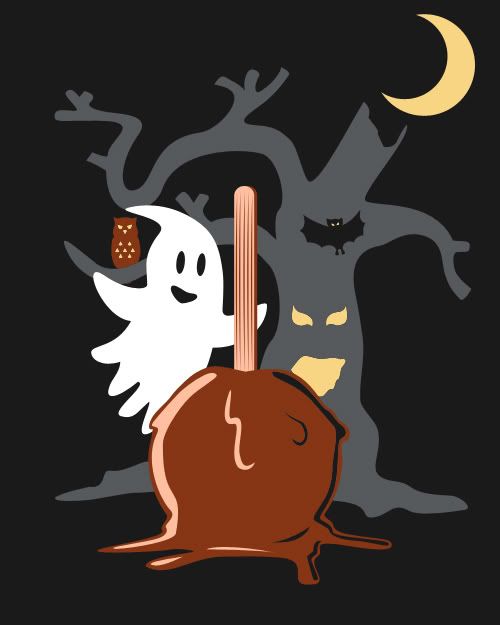 the animal cracker monkey looks enviously down at the Real banana slices, wanting some… tired of his cookie banana.
Sweet chocolatey death! Yum.