Noooooo! Not disco! Anything but disco!
Get that crap off my phone!!!
My next comment is who has been roller derby and dancing? I was a very bad skater and never got the hang of rocking too!
We would take people who couldn't skate, then push them toward a disco queen in a tube top


Do a little dance
Make a little love
Get dumb tonight
Get dumb tonight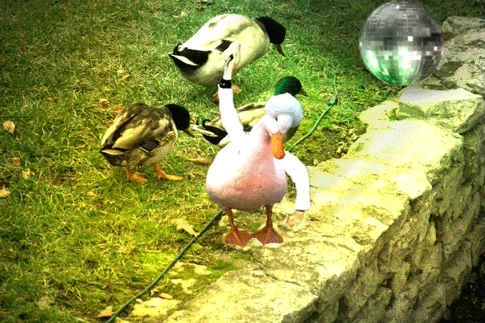 I had NO idea this (disco duck) was real.
HOW CAN ANYONE NOT ENJOY DISCO?
Even if you can't dance, there's at least a beat to do the old folks 2 step (original post). And the onesie isn't a requirement. You just say it is because you need an excuse other than admitting you can't dance.
Disco isn't dancing, it's drug-induced dry heaves set to drum machines.
As awful as the Designated Hitter rule is, even it has outlasted disco by a factor of 7+.
Disco is so obsolete, spellcheck keeps changing it to "Discover".
Maybe you wouldn't social anxiety so much if you worked on your rhythm? My spellcheck doesn't try to change disco, in fact there's even an emoji for it

Not only that, the tempo one should administer CPR is to that of the song Stayin' Alive.
What drugs were big in the 70s? The hippies had lsd & shrooms in the 60s and cocaine was in the 80s. I wasn't a blip on the horizon in the 70s, but I still see it as nostalgic.
But I also come from a family who dances for fun (multi-ethnic including European) and 'soul train' is a verb and a noun.
Also- your description is more like house/techno/trance/EDM/rave not disco

I love disco. They really need to work on their moves though.