I was in, but now I'm out.
Nice catch! Foscam is shipping known bad product, not a good buy at any price!
We have 2 of the 8910w that we use for baby cams and they work great. Plenty of info on the web about them to assist with proper setup. Get black as the led bleeds through the white base.
Also download the new firmware, disconnect your internet, and then setup. Update firmware and then disable the automatic phone home (ddns) setting in the setup.
I bought the FI8905WS Outdoor Wireless IP Camera the last time they were on here.
I have the exact same problem noted on Amazon. I used their support and now feel I am stuck with a camera that will never work properly. I have to reset it every couple of days and during changes in the sunlight, it goes green and purple. It now has the latest firmware but it did not do a thing to fix it.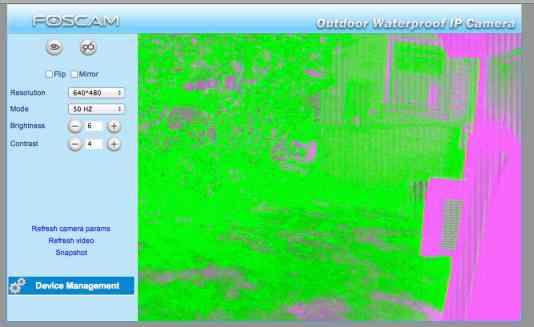 The clock radio cam may be the worst attempt at a spy cam ever conceived. Both the lens and the IR lights are visible in the front! And if anyone with a clue picked it up and saw the SD slot in the rear, the jig is up! The only positive I can even imagine is that it's so pathetically obvious that it may stop someone who sees it from doing something wrong, at least in front of the cam.
Thanks to those for pointing this out. I'd already been searching for a good IP Camera and thought I'd done my due diligence when it came to these Foscam devices. But somehow missed this issue.
I've promptly sent a request to cancel my order.
Thanks again!
Well, besides the high failure rate, the software that comes with Foscam cams is terrible. The recording never works with the default software and the programming was obviously done by people who English wasn't their first language.
Anyone know any good replacement software for recording with Foscams?
For what its worth, the BlackVue DR500GW-HD is pretty neat. Works very well when wired to a power source that is alway live even when the key is not in the ignition and is set up to record on movement or acceleration (ie, the car getting hit while in a parking lot).
However its only $6 more on amazon with prime. Personally, I'd pay the extra $6 for two day shipping.
Plus woot has a list price of 499.99 when amazon has a list price of 339.99. Somethings not right with that…
BlackVue DR500GW Wi-fi with 16gb card
[MOD: The vendors give us the info for the List Price. I did forward the info to the Buyer.]
You are partially correct. I bought this for my Mom who is in a nursing home, to be sure she's not getting ignored. There is no network I can run over, so my options are limited.
Let's say someone makes this and realizes I'm recording; should make little difference, they'll be sure to provide correct care and think I'm a jerk - so be it.
Hi MacGarage,
This is Raheel from Foscam US (www.foscam.us). Really sorry to hear your camera was experiencing this issue. This was an existing problem that affected a small percentage of our stock overall, which was uncovered in our previous shipments from the manufacturer. Currently, we have confirmed that the issue has been fixed in our newest shipments.
That being said, there are still some customers who may be experiencing problems such as yourself if their cameras were purchased recently. We're more than happy to replace or repair this camera for you at no charge since we provide warranty on all of our products. We really do apologize and will do our best to rectify the problem for you.
Please contact our team at sales@foscam.us and we'll be more than happy to proceed with a replacement!
Note the operative wording, "purchased recently". Aka if the issue came up later, even though it was due to their product having a failure that clearly was widespread, they will do nothing for you besides admit it is their own fault but at least it happened 30 days after purchase.
I wish companies would be held more accountable for widespread issues just like car manufacturers are with recalls.
I just want the company to stand behind their product when they knew it was their fault that the issue occurred and not user error. Swap it out and make customers for life, don't swap it out and lose customers for life.
I think you're leaping to conclusions there. The Foscam rep did step up and recognize a known issue with only SOME units. Product recalls are reserved for life threatening or dangerous situations. This is neither.
The Foscam rep also offered to repair or replace the unit.
I'd also like to thank the Foscam rep for taking the time to come into the thread to address this concern.
I picked up two 8910W's from a previous wooting and have been using them continuously since the end of August with no picture issues. I will say that the we interface is kinda janky, but I bypass all that by using ZoneMinder. I do have the common issue that the speaker output is so low and crackly, you can't hear anything even standing next to the camera (regardless if I'm on wireless or copper), but the microphone works fine. All in all, they mostly suit my needs and I decided to try out the 720 outdoor camera and a sd outdoor camera this go around as well. I haven't had any experience with Foscam support, but from the reviews on the internet, that's something I don't want to deal with. Until something else similar comes around with better overall quality at a similar price, I'll be sticking with these.
I appreciate your offer and will follow through and try once again.
However, just less than two weeks ago, I had numerous email conversations with your support, included the image, and not once, was it mentioned that there was a known problem. To make matters worse, I was told to that I had to pay for the shipping to send my brand new faulty camera back.
Am I still going to have to pay for shipping to you have you fix/replace a known problem?
Why did your tech support not mention the known problem despite reporting this problem, image and all, and leave me with the idea there really is nothing they can do with my new camera?
seeems like foscam is trying to do damage control to protect the deal.
Do not buy the FI890 series cameras. I bought them from woot last time. Work great inside but once put outside they lock up if you have too much movement or get this, too much light. There is a fix but you have to ship them back at your cost to foscam. I notice foscam rep said they would fix them, can I get my shipping refunded? Here is the problem - http://foscam.us/forum/8910w-hanging-rebooting-based-on-image-data-t5769.html
1st, a BASIC QUESTION for ANYONE:
Any recommends for quality+ images on a 2-3 camera setup for someone dumb as a rock? (Apps? Get my cellphone to scan a Q-whurt? I can't wire a thing, etc) --and flat broke, so zero fancypants systems?
If you can strongly rec'd a plug & play -decent images w/dependable parts- any of that, I'd be ever so grateful.
Long-winded whycomes and wherefores below w/a note to Badpookey at end.
I'm not protecting a palace, no- more like: yes it would be nice to see if someone is trying to peek in windows when I'm at the grocery, but even more so for when I'm home & hear a noise outside or -eek- maybe inside? Check cameras!
I'm willing to use my golden credit card for this as there has been a massive surge in violent stickups/home invasions etc, with no police ever unless you get shot. Car stolen? House burgled? File an online report or leave a voice-mail and no one will get back to you- 100% serious. Call them up in fear? Odds are mayyyybe they'll show up …hours later if at all.
(Not dumping on the police either- issues abound in every facet & ultimately the one fact that ends debate is that they're shy about 200 police-- and that's just to get up to a standard sized force. No good guy/bad guy, no easy answers, no blame games, nuthin.)
AND -Badpookey? YAY FOR YOU!
I have a lot of experience volunteering in homes for the elderly. All I was doing was playing music, talking with folks, card games- not trained/no professional career there. Heartbreaking how many folks get dumped there, the massive neglect/abuse potential -the horrors when it's found to be happening… so yes: hearty applause for you cuz you give a damn & took steps to protect someone. Nothing small in there.
I hope the universe gives you a big yippee-neato in a 'karma is real today' kind of thing.