They breed like rabbits. Be afraid, Taz.
I have one garden gnome. He was my grandmother's, then my mother's, and now he's mine. His name is Rockwell, named after Norman Rockwell, the artist. Here is a somewhat blurry photo of him:
… a dead gjveaway to all that the old girl living there is over 50, doesn't care what other opinions are, and lives in a fantasy world.
If you are like this, come visit me any time you are in the area.
Happy Wooting
Sending you some professional help now. Keep your head down.

Would they not be the nadir of tacky? They are kinda height challenged afterall.
Just say no …your neighbors beg you
This does assume you like your neighbors
Hey, I'm short and I am NOT tacky!
Well, I'm not tacky because I'm short, anyway.
I am height challenged as well, but doubt either of us are the size of a garden gnome.
Anyway, I was responding to the phrasing of "height of tacky." Tacky is not high. It is low. Therefore nadir. I am being fussy. My father used to correct my papers until it looked like a blood bath.
It can get pretty bad. Your upset HOA placing a restraining order bad. Kidding.

Garden gnomes are - Lame. Sorry.
The impetus behind the invention of the golf club.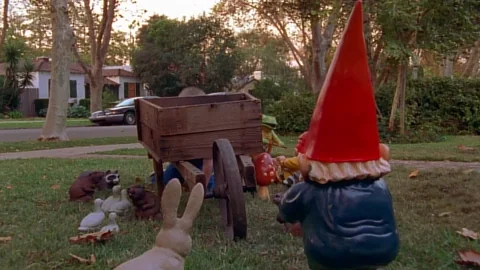 They are evil incarnate! At least that is what my ex girlfriend used to insist every time she saw one. Which was a lot, because I would deliberately hide them around the house when I was drunk and in a sadistic mood and wanted to see her run screaming from their vacant smiles.