How are you celebrating National Fried Chicken Day?
Love me some Popeye's original spicy chicken with dirty rice and/or fried okra. Fell in love with Popeye's when I lived in New Orleans in mid 80's.
Taking a flamethrower to my neighbor's rooster
I really don't need a day for fried chicken, but thank you for the excuse to enjoy some!
Wonder what Wooster thnks?
I AM SERIOUSLY CLUCKING OFFENDED BY THE KILLING AND CONSUMPTION OF INNOCENT WONDERFUL CHICKENS!
WHAT THE CLUCK IS THIS WORLD COMING TO??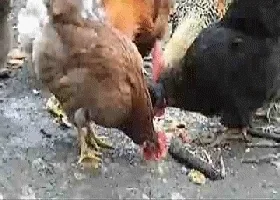 What about the chickens who AREN'T innocent?
Well, those chickens that have 'gone bad' are on their own…
I'll take dark meat over the white meat any day. Give me a thigh, drumstick, or a wing and I'm set.
If chicken ain't your thing —
And… according to my Every Day's a Holiday calendar, today is also National Kissing Day. So get out there and kiss some chickens!! Er somethin'…
I'll celebrate by eating some brisket.

Fried chicken sushi? Sounds interesting.

Hadn't had fried chicken in about a year. I get a craving for it, buy some, eat a piece, and then remember why it was so long since last time I bought some. Yuck.