I must be a zombie and need brains, because I don't get this shirt.
Zombies vs. Plants - a silly game that's illogical and apparently highly addictive.
Can you make a shirt that's, "in case of game addiction, break this" that has something to get my other half out of his office?
It's a plants vs zombies reference… A game by popcap that's been released on just about every system and device… It's really fun
Yeah, I came in here hoping for some clarification too
I spot a cactus, which means: finally a shirt to wear/gift while singing "A Fine Romance."
Ha, love it. This is the first zombie related shirt I have ever liked. Yes, I played Plants vs. Zombies… a very fun mini RTS game. Kid friendly as well.
It is now free on iphone and ipad if you haven't played it.
This picture will help you out if you haven't seen the game.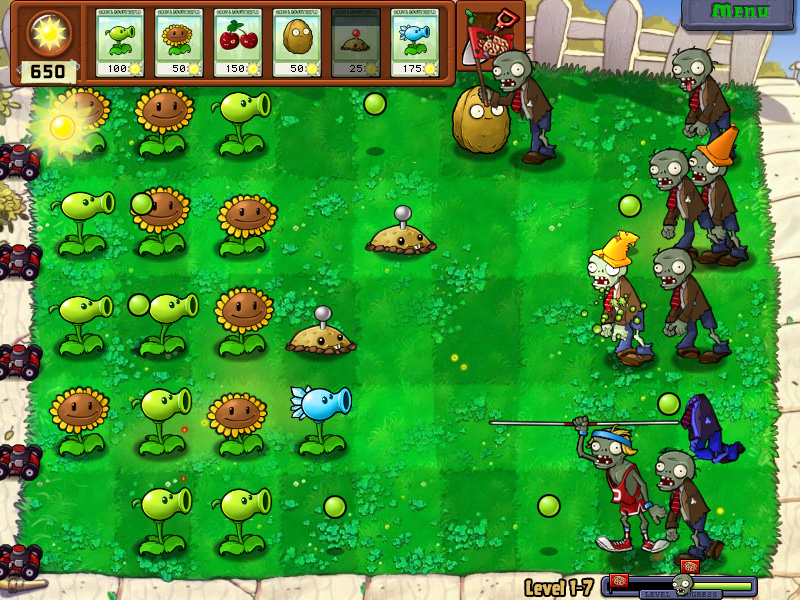 Wow, woot really does read minds. After not once ever talking to my wife about Plants Vs Zombies, and her never playing it at all, she asked me about it not 30 minutes ago. Creepy.
Gotta admit…I thought you were talking about the Doctor Who spinoff Torchwood…which is an anagram for Doctor Who.
I am slightly disappointed now
Anyways great design and If I ever got into plants vs zombies I would pick this up.
Seriously, I was just playing on thinkgeek and it popped up a PvZ item and I was like, WTF is this… look into it, logged onto Woot and … (Twilight Zone music)
GET OUT OF MY MIND WOOT (or at least clean it up a bit while you're in there. I have a dirty mind :p)
I love playing plants vs zombies so I immediately got the reference
The one thing that I do not really like, however, is the cactus … that does not show up in the game, does it?
You can also try the game out here: http://www.shockwave.com/gamelanding/plantsvszombies.jsp
The cactus grows really tall and shoots down the balloon zombies.
My personal favorite plant is the Cat-Tails. In addition to being adorable, they are downright deadly, due to shooting homing spikes.
Wow…this shirt is painful…
Yes! The cat-tails are the best plant, hands down. But why do they wear 90s grunge beanies?
If only the plants looked a little bit at all like in the game, it would have been a great shirt
I got really confused for a moment and wondered what this had to do with fighting aliens from a base under Cardiff…