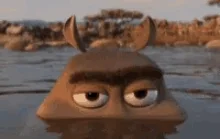 Yikes
I think this is cute as heck. It's a nice change from all the inflatable t-rex costumes.
Limit 10, so why not!!! So cute

Whoa! Limit of ten (10). What about all the flippers that "might" buy this costume! Woot is getting loose.
A lot of the items available in the sale this costume is a part of have limits of ten. I'm guessing because it's in the clearance section, but I could be wrong.
Woot does up the quantity to ten sometimes. I don't know the conditions Woot uses to make that decision but it's far from the first time.
(Please note: I don't work for Woot, I just volunteer to help out here on the forums.)
I got my friend, whose favorite animal is hippos, this last time it was offered. She was pretty excited. I'll post photos once she wears it, but she might be saving it until Halloween.
halloween??? if I had this, it would be an everyday wear