I'm pretty sure I saw a segment on this winery on "In Wine Country." I record that program so now I'm gonna try to find it in my cue & rewatch it.
Had me going for a minute. Thought it was Russian River Brewing instead. Sad.
Pretty much no info about the wine. Typical for that program:

Consistently positive (although limited number of) reviews on CT for '06, '07 and '08, scoring an average of 89-90 for all 3 vintages.
$33 a bottle on the winery website but can be had for $21-$28 (before any applicable taxes/shipping charges) via wine-searcher.
Seems like a reasonably good QPR for a smooth drinking Pinot. That said, I am already well stocked with Pinots (and Zins) right now, thanks to wine.woot.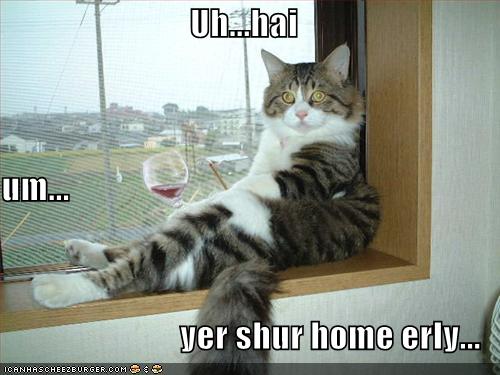 The winery's "States we can ship to" page lists WV. Was it accidentally left off the list here?
WV seems to be off the list more and more these days, but soon I'll be moving to the bluest state around when it comes to receiving shipped alcohol(Massachusetts). I'd really like to stock the cellar before I go,
so I'm hoping it's just a recurring oversight. I doubt it, but am hoping.
I understand the "stick-in-the-mud" state legislature issues, including the throwback Blue Law buzz-killers and the state-specific hurdles of regulations and often outrageous permit fees ($150 in WV). But I don't understand why WV is often passed up by wine.woot even when the winery is willing to ship to us. Do wines sold here fall under different and more stringent regulations even though they're shipped by the wineries? That's a serious question, although I know it makes me sound like a whiner and I hate that. I'd obviously rather be a winer (sorry. It's late and my puns are tired.).
Adjusting to life as a Mountaineer was difficult for me–a city girl through and through–but I did it. Until the Great Wine Drought hit.
Sorry this is so long. If woot adds WV to the list, I'll go drink my woes away instead of bugging you all about them in verbose forum posts.
I'd go do it now, but there's a wine shortage here.
I live in a nanny state but that did not preclude me from gifting this good wine to a lucky son in North Carolina. Mahalo.
I guess I've been away too long. What happened with the 3 day weekend Woot deal? Is it 7 Woots a week now?
Oh my. No Georgia this time. And Woot is the only place I can buy wine on Sundays in this state!
[labrat]
I was selected to rat this wine. I wrote the following prior to the woot! Coming up, so I wasn't aware of the price point beforehand. I will not be going in on this offer.
Again, I'm an Inexperienced wine drinker, so I stick to generalities when describing wine. Hopefully, you can get an idea though from my impressions. I tend to like syrah, cab sav and tempernillo, as far as reds go.
Longboard vineyards, 2009 Pinot noir, Russian river valley
Opened at 7:30
Color: Very light red, true to Pinot style
Smell: a bit of heat, Some berry coming through
First taste: very heavy fruit, not much in the way of tannins or structure
Finish: not much finish, does not linger
Not a lot of complexity, but a very drinkable wine. Definitely an every day drinker
30 mins in glass
Heat has mellowed, unfortunately, so has the fruit. Very non-descript wine.
With pepperoni & italian sausage pizza:
The heat helps the wine standup to the food. This wine may be better suited as a pairing with a nice spicy main course.
An hour in glass
Heat continues to mellow. Fruit has continued to come through.
Two hours in bottle:
Continues to soften, easy drinking fruity Pinot now.
Conclusion:
This is a solid every day drinking wine. I would say a good $8-$10 bottle. Probably an 82 or so on a ratings scale. Delivers the fruit without much noise.
I think things changed the weekend of September 16. So, yes, now we have 7 days/7 different wines.
I live in Sonoma County wine country and I can honestly say that Longboard Vineyards has THE BEST pinot noirs I've ever had. This is definitely a tremendous deal for the quality of the wine.
Says the poster with no woots… hmmm… Shill? You joined 4 years ago and only have this 1 post and never bought a thing?
Very excited to see Longboard Vineyards here today. I've personally enjoyed their RRV Pinot Noir for many years (as well as 100% of their other varietals). Across the board, great QPR, labels with a story and cool folks behind the winery.
Cheers & looking forward to Oded joining the boards anytime now.
PS - Texas, here's your chance to buy up! Longboard isn't currently distributed in Texas.
Trifecta, come on show some love here !
Maybe they have a windows computer that only works every 4 years !
Let's not go accusing shill on a 4-year old account. They might live close enough to visit to purchase. Could be an alternate account.
Why isn't Georgia on the ship-to list? It's always been there! Did some buzzkilling state legislator screw me?
Thanks for the excellent rattage, i'm noticing that its an 09' do you take this as a drink now type of wine or a bottle that would be best cellar ed for 2-3 years?
A little late to the party, but can we get some TA & pH numbers please?