Of all our celebrity well-wishers for our birthday, who was you favorite?
Wth are you talking about?
That jersey shore chick proves humanity is doomed. But she's still kinda hot…
I have to declare a tie between Sabrina the Teenaged Witch (I mean who didn't have a crush on her growing up?) and Felicia Day (as a fellow Bamian, I'd be remiss if I didn't vote for her!).
Hey, you forgot the R in "your!"
On their social media channels, they had birthday wishes from different celebrities.
Sasquatch or was it Big Foot hard to tell them 2 apart from each other. It was a quick appearance if you blinked you missed them
Felicia explaining why she made the birthday greeting…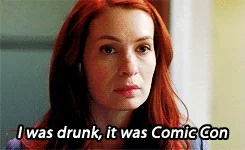 Bert Lahr


Sorry, He was the first celebrity that came to mind.
Other than Sean Astin, it was more like a B-roll of pathetic has-beens who aren't even good enough to get invited to comic con, but not desperate enough to be escorts, rather than a birthday well wishing video compilation.
Meh I'd pick Sabrina but never saw her b'day wishes. Can do without the annoying redhead who was one of the fails on the MST3K reboot.
I hardly could recognize any of them, is it me or is it a face off? O'crap-Glad your 17th Birthday wasn't a disappointment of sorts!
Best: Gilbert Gottfried, though I wish he had delivered some sort of Gottfried-ish scathing sarcasm. Stick to what you're good at, Gilbert!
Worst: Kenny G. Nuff said.
This reminds me of my Facebook on my birthday. Friends from high school wishing a happy birthday and my response is mostly "who the hell are you?? OHHHHHH right, I vaguely remember you doing something almost cool."
Can I get a link to see what you all are talking about???
A-list celebrities probably aren't doing Cameos, but if they are, they probably charge a lot more money than the ones that Woot chose.
Besides, I thought the greetings were a lot of fun. The various ways the celebrities chose to say "Woot" without really seeming to understand what Woot even is made me laugh.
I get that you weren't impressed but tossing in the escorts jab seems over the top. And I can promise Felicia day gets invited to Comic-Con. She'll be appearing this year, in fact.
Honestly, Woot having b-list (or whatever list you want to put them on) celebrities completely fits Woot's vibe.
Check out Woot's YouTube channel for the videos (as well as other stuff):
Felicia definitely goes to comic con all the time! I've seen her there!