I'm bad enough at dusting surfaces, I'm never going to try to dust the air.
thought it was a coffee dispenser that blows
I bet you could use it as a frother if you were desperate.
I'm sure I'd use it to chase drops of water into the sink drain.
it says "multiple uses" but it's really just one use, right? it blows air. that's the use. i hate this thing.
it does come with the inflatable head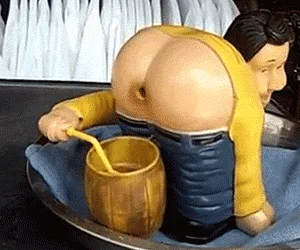 i can't tell what disturbs me more, the butt or the face
i'm still looking at it tho
Gotta love old time novelties.
I was thinking this duster would be great for asthmatics that want to blow bubbles…
Will these feature in the next woot-off?
With monty or mortimer's head?
A woot themed butt bubble blower?
SOUNDS LIKE WE'RE WORKSHOPPING A NEW WOOT BRANDED ITEM
reminds me of this
NOW I WANT ONE