Damn I was hoping I'd get that vacuum
If all goes well, your "prize" will suck more than a vacuum.
So, I noticed when I turned over one of my eagle stickers, it resembles the head of a cat. Especially if you add the features. Wonder if this could be used as a @Narfcake signal.

This could be very useful.
Be careful.
Be very, very careful with that robovac.
The one we had for a while tried to kill us.
It followed us around the house.
Numerous times, it would sneak up and try to trip and kill us I think.
Then it would vacuum up the evidence.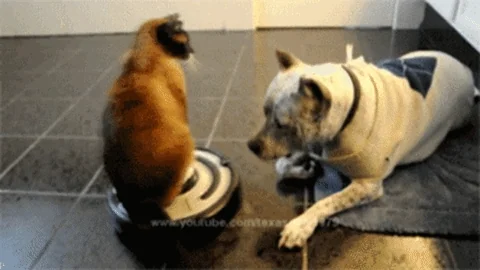 It won't suck up poison ivy…
Maybe it can be rigged to dispense lotion.
Lots of goodies so far. Super jealous of the Cuisinart and vacuum!
@FrostByte thanks for keeping tally.
Looks like mine is supposed to arrive tomorrow.
I'm sorry. Be strong and remember to stay hydrated.
Congrats & Condolences!
Did you smell it?
Yep, it smelled new. It was clean and there was no animal hair in it. It's disappointing. I was really hoping to get traumatized when I opened the box. Dave must be saving all the really gross stuff for one very special wooter.
UPS guy has been driving circles through my neighborhood for a long time. He's either confused or trying to bug me… JUST DROP IT OFF ALREADY!
He's probably waiting for you to go outside so he can see exactly who ordered a 6 ft weener from a place called Woot.
He's gone now but still no package. He must have left to get more business cards.
For those that are not aware, one of my delivery drivers occasionally drops business cards for his side hustle INSIDE my packages during delivery… Yea, super creepy and apparently the BBB doesn't care.
I said something about this in the Green thread but I can't find the post to link.
BBB is a worthless scam. UPS on the other hand should get very upset about package tampering.
I don't think he wanted to get the guy fired over his side hustle.