We've heard your feedback, you're asking yourself "Is there enough sizzle in this bacon woot-off?" and making comments to us like "I thought there'd be more bacon".
Here's your chance to make it happen. Show us where we could have optimized the bacon!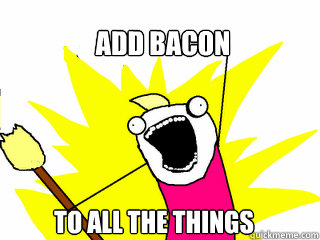 This is what it is, folks.
Find your favorite woot-off item for sale. Items must be from the August 2012 woot-off! That means if you want to slack off until it's over, be our guest.
no products that are actually bacon related
keep it tasteful
BACONIZE IT. Make it better with bacon! Uplift the copy if you're not artistic, but what we really want to see you do is slap some bacon on the product picture in a creative fashion and show us how it's done.
Post it!
You've got until Friday morning, 10am CST to bring woot the bacon. Post as many products as you'd like.
Have fun!
[qualityposts=5136732][/qualityposts]