You're asleep and having a nightmare. What kid's show are you hellishly stuck in?
How is this a poll of hellish children's television if it doesn't include Caillou? Tell me, how?
Not a kid's show but when I was little I had a vivid dream about a ghost version of Woodsy Owl (from a series of TV commercials about pollution) where he wanted to fight me with a sword and all I had was a cardboard tube from a roll of wrapping paper. I don't remember how it ended but I can only assume I died. I hope he disposed of my body responsibly and didn't pollute.
OMG. THIS. I don't understand why, how, what, wtf. That kid is the WORST. And the enabling ass parents aren't much better. The kid has a tantrum every episode and the parents are like oh no, the monster needs feeding- give it what it wants!
A close second is This is Daniel Cook which is odd because Canadians are supposed to be nice, but nice isn't a word that comes to mind when I think of either of these shows.
This poll reminded me of a great movie called "Death to Smoochie"
Barney, the dinosaur. His singing button is stuck and my ears and eyes are bleeding.
This was a good movie! I miss Robin Williams.
Bozo's Big Top.
That clown freaked me out.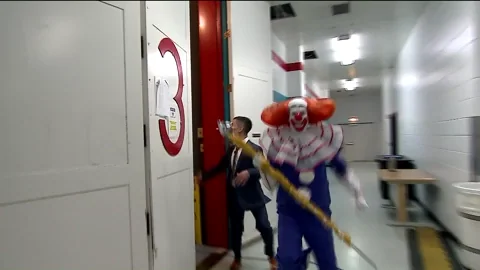 You're stuck on some clown from the 60's, man!
I was way too young to understand who/what the joker was, but I always loved that entrance walk.
Someone sure had a bad weekend Mort!!!
Bozo Grand Prize Show…now Davey aim for bucket 3 "drum roll ah you got it and you've won a brand new Micro Machines play set"
Clearly the winner would be Teletubies. I would smoke out and laugh my ass off to those Teletubies. They'ld make weird noises that I now only hear from the wife in bedroom.
How is Spongebob not even mentioned yet?