The size chart makes no sense.
Maybe if you try to put it on headfirst?

You pull this over your head apparently. It's the newest style
They're what you wear with these pants: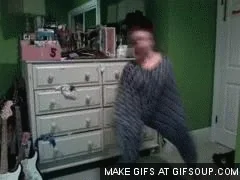 Give and go? What are the menz giving?
My husband wears these and loves them. Very long lasting.
Excellent price, too, BTW.
Hi! Can anyone comment / compare on the 2 styles of boxers offered?
I am size 34", and purchased the Medium boxer type on a previous sale. I really like them, but they are a bit thigh. Wondering if the boxer brief were looser or if I should try the boxer in a Large.
Thanks
Boxers are generally cut to be loose on the leg. Boxer briefs are cut to hug the leg. So I'd just go to a large of you like the loose feel.
The size chart can be found here, with pictures of each style: Exofficio Size Charts

This size chart really does make no sense. If you go to the exofficio store on Amazon it gives a whole different (NORMAL) size chart. I typically wear a size large, (38 waist) but going off this size chart on Woot they have me in XXL. That's messed up!
Makes me wonder if these are "fake" knock offs.
Woot - please update your description! There is not enough information to know what is being sold here. Ex Officio sells two versions of the Give N Go - one just called Give N Go, and one Give N Go sport mesh. Also, there is the original style that was discontinued last year, and then the new 2.0 style they started selling last year. That's four different types of boxers that match the name you're selling here. Which product are you selling? I'd happily buy lots if they were the sport mesh version. Other interested purchasers - if no further information is provided, assume these are the original plain give n go's (not sport mesh, and not either 2.0 version).
FYI for people talking about size, for the sport mesh version I am around a 38" waist, and size large fits perfect with a little more room to spare. Their website says large is for 36-38". Forget the sizing chart posted here. Look at the exofficio website.
What is the inseam on these?
@ThunderThighs @lioncow the sizing chart on the listing is weird. Can you fix it? Thanks.
(Please note: I don't work for Woot, I just volunteer to help out here on the forums.)
Here's a link to their official size chart.
https://www.exofficio.com/on/demandware.store/Sites-exofficio-Site/default/Support-Show?cfid=size-chart-lp
(Please Note: I'm not employed by Woot, but I volunteer to help in the forums.)
Thanks. I sent an email to the sports team.
It would appear the sports team was unimpressed with your email.
Or it's the weekend and they won't read it until tomorrow.
You work dutifully even on vacation. They must work with dedication inspired by you.
Actually, we'd like more of your colleagues to have the dedication to read what they composite in ads. You, your volunteer moderators, and some of us are checking more than they seem to.
It should be sorta embarrassing to them as you are doing clean up for them. It is more often than we see in other e-commerce sites. Has it been outsourced? Pride of work seems missing on their part.